The Provost's Instructional Technology Fund is supposed to be the gear that sets great ideas in motion, but sometimes its mere existence can spark a great idea in the first place.
Enter the University of Toronto Libraries' ambitious plan from 2007: embed library resources—like databases, journal articles, and reading lists—into the Blackboard system, customized for each specific course, accessible with a single click.
"We wouldn't have been able to do this, or even have the idea of it, without the ITCDF," says Rita Vine, head of faculty and student engagement at U of T Libraries.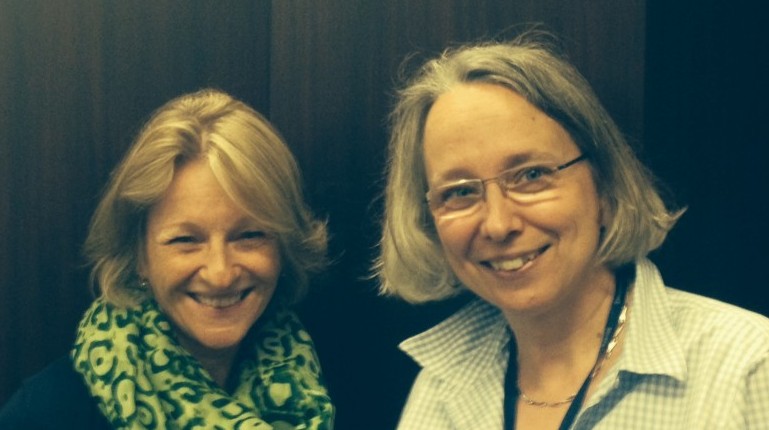 Vine credits UTM colleague Rochelle Mazar with the original idea of writing codes to automatically embed discipline-specific resources for each course, right into Blackboard.
"That was just the biggest idea, and Sian realized her team could do this."
Sian is Sian Meikle, the U of T Libraries Director of Information Technology Services. As Meikle explains, they already had content that was course and discipline specific, such as history databases or past English exams. They just needed some funding to automatically program these resources to show up in the right course pages in Blackboard.
With a few thousand courses created each semester in Blackboard, it sounds like a monumental task. As it turns out, it only took a summer's worth of programming to come into fruition.
Six years later, it's generated nearly 2 million page views.
"Now, without having to ask a librarian, an instructor can have recommended resources right there, inside their course," Vine says.
But the professors can still talk to a librarian if they need to. Meikle and her team were able to create a separate view for professors, giving them a direct line to the library. And the librarians can still go in and customize resources for individual courses if they need to, so the tool isn't prohibitively "one-size-fits-all."
"At the time [2008], we were almost the only library doing that," Vine says. "That money allowed us to be leaders in that area; it established U of T as a leader."
Even today, Vine says, despite more superficial connections between libraries and learning systems, like a simple tab, "I still say we're counting on fingers and toes" the number of institutions that have embedded library resources to the degree U of T has.
"When you look at the amount of money versus the institutional benefit, and the life that this project has had—it's longer than we ever anticipated," Vine says.
And it's about to get some new life. Vine and Meikle are excited about the upcoming refresher that will be ready this semester, where they hope to improve the application further.
"We did student testing this time, so it would be student centered," Vine says. "Librarians tend to go for detail—we can put this, this, and this in here—but students were saying there's way too much on the page. So we simplified it."
And beyond the obvious benefits to students and teachers, the ITCDF grant and project has had other positive impacts for the library.
"It was a great demonstration of how a small project can make a large scale difference," Meikle says, referring to the Library's new Personal Librarian initiative, which allows first-year students to communicate with their very own librarian via email, throughout the year.
"It's good for the institution in all kinds of ways."